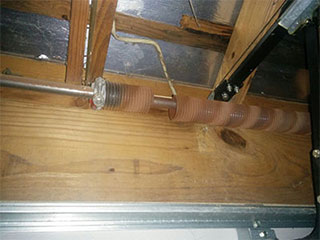 Any component that's subjected to as much daily strain as your garage door springs will eventually wear out and break. Our technicians have the skills and the experience necessary to quickly take care of these components when something like this happens, as well as to regularly maintain them and keep their condition optimal.
Torsion And Extension
Not all door systems use the same type of spring. There are two main types garage door systems use today. Torsion springs are the most common - they're tough and strong, and work by twisting up and applying torque in order to help the door move. Extension springs are less common, since they're more dangerous due to the way they work. They stretch when the door closes and then contract in order to help it rise. For that reason, they are a good fit for garages without much overhead space, as unlike torsion springs, they are installed on the door's side, parallel to the ceiling, and not above the panels. The reason they are considered more dangerous is because they are more likely to go flying when they break.
Regular Maintenance Is Essential
Over time, every part of your overhead door system will begin to show signs of wear. The springs are no different, and require regular adjustment and lubrication in order to reach their maximum service life. By applying them with the proper lubricant, our technicians can ensure that each component is able to move smoothly and easily, and is well protected from rust and corrosion. Our team will also inspect these components to ensure their tension is properly distributed, and will make any adjustments as necessary.
The Dangers Of DIY
Don't be tempted to try your DIY skills out on these components - they're under a lot of tension and can be extremely dangerous. Our technicians are highly experienced and know how to safely handle the spring replacement process without putting anyone at risk.
Schedule An Appointment Today
No matter what type of spring related problem you're experiencing, our expert technicians will be able to provide you with an affordable and affective solution. Contact Garage Door Repair Alpharetta today for the best service around.
Need more? We also provide:
Liftmaster Garage Door Maintenance
Remote Opener Clicker Replacement
Oil Tempered Torsion Springs
New Garage Door Installation