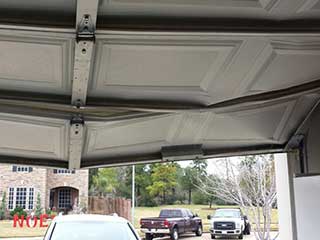 If your garage door needs repair work or servicing, our technicians have the experience and knowledge to restore your system safely. Your average complete garage door system has many moving parts. The size of your door, the tension that the springs are under and the electric motors can all result in a potential safety hazard if not maintained and looked after properly. Luckily, we have the skills and know how to keep your system running smoothly and can handle any repairs as they arise.
Handling Broken Springs
Our services include fixing broken cables or springs. The tension that the springs are under could turn a broken spring into a serous flying metal hazard. If these parts are not handled correctly, they can cause serious injury and damage. For this reason, you should not attempt to adjust or repair these components by yourself. Let our professionals do the job safely for you.
Looking After Doors
Wood, metal, aluminum, and even glass garage doors can weigh well over 100 pounds. They could crush a hand or foot, or do even more serious damage if the proper precautions aren't taken when something goes wrong. You may be struggling with a significantly bent or broken rail or the door may have come off the tracks. Fixing these problems may require removing the door. Again, you should not attempt this by yourself – our technicians are on hand to help you.
Panels And Tracks
These components can both be damaged by wear, rust and dents over time. If these parts of your system are excessively worn and need replacement, you will need expert assistance. Leave it to our specialists to find and install the new components for you and check everything is working safely.
Dealing With Electrical Faults
If your opener is acting unpredictably or has stopped responding altogether, this could signal a burnt motor or an electrical fault within the circuit board or wiring. If this is the case, our experts can troubleshoot a variety of scenarios based on their experience and provide a recommended course of action. Our technicians know how to work safely and efficiently around door machinery powered by electricity.
Count On Us
No matter the problem you are experiencing, you can rest assured in the knowledge that our experts at Garage Door Repair Alpharetta can help you out. Get in touch today!
We Also Offer:
Overhead Door Installation
Opener Sensor Replacement
Part Replacement & Lubrication
Track Adjustment & Replacement