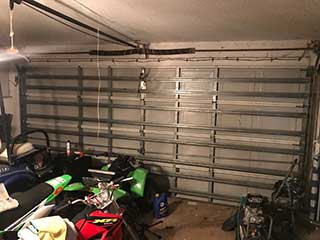 Why don't you maintain your garage door like you maintain the machine you store inside it? Not sure what we mean? We're talking about your car. You get it checked and tweaked by a mechanic once a year or so, don't you? Well, your trusty garage door deserves a similar treatment. Our service can help it not only avoid all sorts of problems, but also extend its longevity and save you money in the process.
A Lot Of Moving Parts
This type of system consists of a variety of components of different shapes and sizes, and each one of them has a very important role. We'll make sure you don't have any frayed cables or worn rollers, and that your tracks haven't become bent or misaligned. We'll also check the panels, and make whatever minor repairs are required to preserve the door's curb appeal.
Some Parts Need a Little Extra
Your garage door springs, for example, require more frequent and careful attention than some of the system's other components. We'll examine their coils, lubricate them to ensure their silence and efficiency, and adjust their tension, should it be slacking. If we find that their condition has become too worse for wear, we'll carry out the required spring replacement on the spot, to prevent the dangerous scenario of them breaking unexpectedly.
Let's Not Neglect The Opener
This unit is in charge of the automation of the system, so it must be tested and checked very strictly. Your garage door opener has a pair of photo eye sensors, which it uses to detect when an obstacle is blocking the descent of the panels. The alignment of these safety sensors must be exact; otherwise the door may not reverse in time. We'll test them and realign them (if necessary) to make sure that doesn't happen.
A Variety Of Other Services
If you find yourself in need of anything else, whether its emergency repairs or opener replacement, you can always count on our team at Garage Door Repair Alpharetta to respond quickly and provide the excellent service you deserve. Call us today if you have any questions or if you require any of our services.
We also take care of:
Galvanized Torsion Spring Replacement
Door Opener Troubleshooting Services
Garage Door Safety Inspections