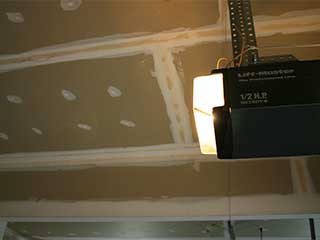 Different openers have different features and capabilities. You may have a light, residential door or a much heavier one requiring more horsepower. If you're in need of a new opener, our experts can help you choose & install a new unit. We're also on hand for any troubleshooting or repairs that your existing system is in need of.
What Kind Of Openers Can I Choose From?
Belt Drives Make Less Noise
Belt drives work smoothly, work fairly quietly and theoretically require less maintenance than chain drives. If you want your garage door to function as smoothly and quietly as possible, this option is likely to suit your situation best. Whereas a chain and screw drives are made from robust hard metals, this type is made from lighter more flexible materials. This flexibility is what allows the belt drive to absorb vibrations, in turn dampening the noise it makes.
Chain Drives - The Popular Option
Chain drives are the traditional option for opener systems. They are perceived as strong, reliable and safe in terms of durability and getting the job done. They are also widely available which makes them easy and affordable to procure and replace. One of the most important factors to consider with this system is the level of noise it generates. These types are not typically effective when it comes to absorbing vibrations, meaning they can generate a fair bit of noise. Further, it is common for this noise to increase as the system ages. As a result, chain drives are usually more popular for those with detached garages.
Screw Drives Require Less Maintenance
Screw drives function differently to the above two alternatives. Their design incorporates a trolley that runs along a threaded steel pole which provides rotations to maneuver the door. They can be slightly more pricy than other options but usually require less maintenance as they have fewer moving parts. They are typically built to be extremely robust and compact which means they last for long periods of time without needing repair or replacement. It is common for a screw drive to make slightly more noise than a belt drive but offer motion that is equally as smooth. So, if you want a simple drive that will offer smooth function for a long time which requires little care and maintenance attention in the near future, this one may be the one for you.
What to Consider When Buying an Opener
It is important you buy the correct opener system for your door weight; most units will come with their own specifications for height, weight and power limit. Our professionals at Garage Door Repair Alpharetta can help you choose the right one for you – just give us a call today!
Count on us for:
Extension Spring Adjustment
Roll up Garage Door Maintenance
Garage Door Cable Replacement
Emergency Garage Door Services